Android makes many people's life very easy and simple. Because of android, you can do any of your tasks using your android smartphones such as paying bills, phone recharge, entertainment, listening to music, and so on. As it is an open-source operating system, anyone can customize it according to its self. Along with these features you know there is also a risk of data leak, hacking and cyber-attacks.
In this article, we are going to discuss one of the underrated topics that most users do not much care about is android security. We compile a variety of best firewall apps for android that can protect your device from viruses, malware, spyware, and data threats. There are plenty of security apps in the google play store but most of them are not top-rated and have not many features. So we pick fully tested and reviewed firewall apps for our readers.
How Do Firewall Apps Work on Android?
If you don't know about firewalls let's start a small intro. A firewall system is totally connected to network security as it can control incoming and outgoing traffic of your device. The firewall comes in both software and hardware form. Most business companies use hardware firewalls to analyze their network traffic. Then Others are software firewalls that can be used on computer systems, mobiles and on other devices.
Now Come to the Android firewall apps, how do they work. The basic functionality of the firewall is similar to the traditional one to become an intermediate in network traffic. These apps can monitor your traffic and apps activity. Like if you have to install a firewall app on your android and you are trying to open some malicious page then the firewall restricted you so that can not able to affect your device.
It can limit your internet access and decide which app can have internet access and why. Further, they protect you from sharing your confidential data with those apps. It can analyze your network activity and block the eternal sources that trying to access your data and trying to install malware on your phone.
List of Best Firewall Apps For Android in 2023
Let's check out the app list, Most apps do not require any root access to your phone. You can pick according to your need. If you already rooted your smartphone you can try root apps too. Most of the users think that these are useless but sometimes sit can protect your data from a massive data breach so must use one of these apps.
1. NoRoot Firewall
Most people recommend using NoRoot Firewall because of its incredible and easy-to-use features. This app requires no root access to your phones. The primary function of this app is that it can suspend specific application internet access, so it can't share your data via the internet. They also have a notification system that tells you when some apps try to access the internet.
They have custom filters in NoRoot Firewall, so you can edit any apps access that can threaten your data. You can modify the setting according to your need and safety. There are many apps on the internet, but go for it if you are looking for the best firewall app with a simple interface.
2. NetGuard
With 5 million active installs on android devices like NoRoot Firewall. NetGuard is also one of the best firewalls in the market. It also has easy to use interface and control over apps access. You can edit the app's internet access; You have three options to give wifi access, mobile data and block. Use as per your need. Sometimes apps secretly use your internet to send data to servers.
You can set a setting in this app that internet access is revoked from selected apps when the screen is off. So if you have any critical task to do and NetGuard comes between your work, you can simply turn it off and do your work and turn it on again for your safety.
3. AFWall+
Maybe AFWall+ is not the choice for most android users because it needs root access to your smartphone. It has over 500k+ installed on google play store with 4.1 ratings. From a developer's point of view, they need root access to offer you more features that can fully control your device forcefully. On the other hand, XDA Developers develop AFWall+, so don't worry. They have been in this field of android for a long time.
They offer crazy features that most firewall apps can't do: LAN and VPN support, Xposed modules, Support x86/MIPS/ARM devices, Tor, IPV6/IPV4 and Tether support. You can't find such features on another app as it can fully access your device.
4. Mobiwol: NoRoot Firewall
Like other apps, Mobiwol doesn't require root access to your smartphone and still offers extra features to protect your devices. For example, it can help you save mobile data battery life and protect you from unwanted apps sharing your data with external sources. In addition, it includes the primary function of any firewall app to control the internet access of mobile apps.
Mobiwol alerts you while some app is trying to access the internet. You can set firewall rules settings and change the data usage. This app can have over a million-plus download in the play store with 3.6 ratings.
5. VPN Safe Firewall
As its name suggests, It has similar features to other firewall apps hacking. But it has some useful features like it can support connections such as 3G, 4G, or WiFi, and even LTE. VPN Safe Firewall has an exquisite and easy-to-use interface that everyone can easily use. You can use this app free for your lifetime. Like Mobiwol, it can save your data, save battery life, and maintain your privacy and security.
Another it has over 100k+ downloads on the play store with hacking 3.9 ratings on it. You can track data usage per app so you can utilize your internet. It can make a secure hotspot and work on high-speed, secure encrypted VPN connections.
6. NoRoot Data Firewall
NoRoot Data Firewall offers a primary and simple-to-use interface much like other android firewall apps. The app will notify any app trying to access the internet by default. In addition, you have the option to either allow or block access. You can also restrict specific apps, default WiFi behavior, and mobile data.
Another advantage of the app is its ability to log all network interactions. For example, to see which websites and IP addresses a specific app connects to, tap on the app. You can also block specific domains or IP addresses and block images from loading to save data.
NoRoot Data Firewall has been known for its ability to block. NoRoot Data Firewall's interface is fantastic. It can alert you when any blocked app attempts to connect to the internet. NoRoot Data Firewall can also record network interactions made via pre-installed applications.
7. NetPatch Firewall
If you're looking for a firewall that can install on any android device, NetPatch firewall could be a great option. It offers good security and protects your device from malicious sites and other suspicious connections. NetPatch allows you to easily block any network you don't want to be part of. This firewall app gives you complete control of your internet connection.
NetPatch Firewall, however, is quite different from the other firewall apps. This advanced firewall app allows you to block specific IP addresses, create IP groups and even create a domain. However, most NetPatch Firewall features, such as blocking mobile data and WiFi on a per-app basis, remain the same.
8. Karma Firewall
Karma is an Android firewall app that's relatively simple and new. This app is perfect for those who don't want complicated settings or advanced features. It has a simple interface and allows you to allow or block any app from connecting to your internet. You can also block all apps from connecting to your internet if necessary.
Remember that the app does not allow you to manage your mobile data and WiFi separately. You have two options: either block the app's connection to the internet or allow it. In addition, the app logs all traffic while you're using it. The Settings menu allows you to access traffic logs.
9. InternetGuard
InternetGuard is another highly-rated Android firewall application that runs on non-rooted Android devices. The app can make custom profiles to prevent apps from connecting to the internet when connected to wireless networks or mobile data. In addition, the user interface helped the application stand out from other apps.
10. LostNet NoRoot Firewall Pro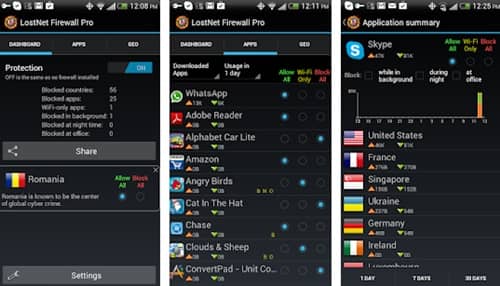 LostNet NoRoot Firewall is a simple-to-use and packed with features firewall application for the Android device. With this application, it is possible to not only restrict apps from connecting to the internet via WiFi or mobile data, but you can also prevent the apps' access to any region or country.
Like all other firewalls that are not root-based, LostNet NoRoot Firewall uses a local VPN to control network traffic. It will also block advertisements and shield your device from harmful domains or websites.
One of the most appealing aspects of regarding LostNet NoRoot Firewall is that it can be configured to block all apps from connecting to the internet when you're asleep, i.e., at night time or according to your personal timetable.
Above are the top-rated android firewall apps you can use to protect your device. Pick as per your need you can read each one's description and install it on your android smartphone. Don't forget to leave a comment below. If you know of any other good firewall apps, let us know.